Becoming a B-corp, transparent web entities, Meward, parties at the Nut, and more...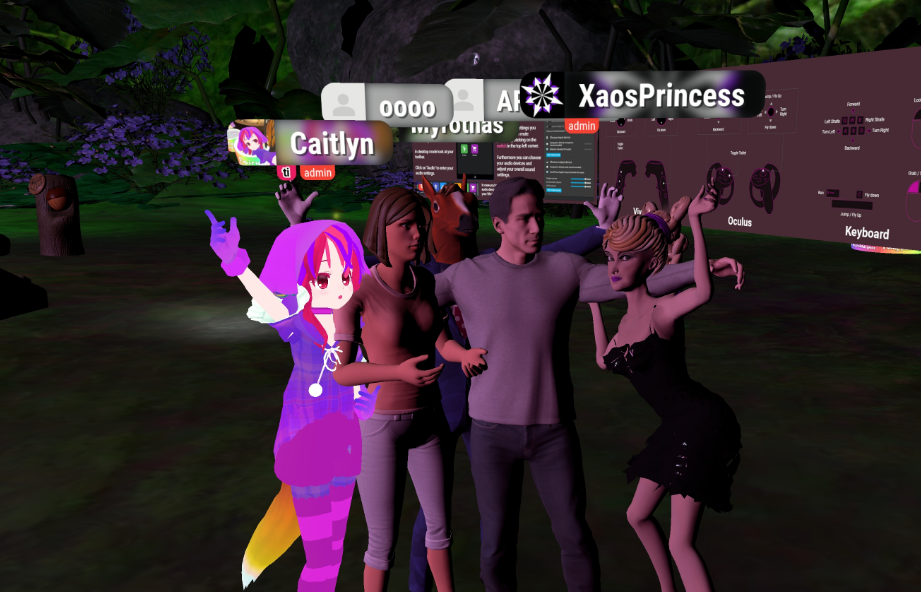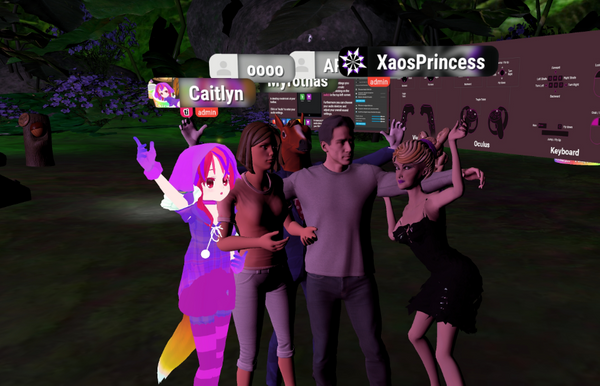 Hello! Welcome to the Tivoli Cloud VR weekly update for August 10, 2020!
It's been an exciting week here at Tivoli Cloud VR, with some major changes to both our organization and to our platform.  
Transitioning to a B-Corp
In fall of 2019, we started Tivoli Cloud VR following the usual Silicon Valley startup recipe, opening the door as a type-C from Delaware with a plan to raise VC funding with an eventual exit strategy 5-10 years down the road. The typical Silicon Valley type-C corporation is focused primarily on generating a big payout for its investors and shareholders.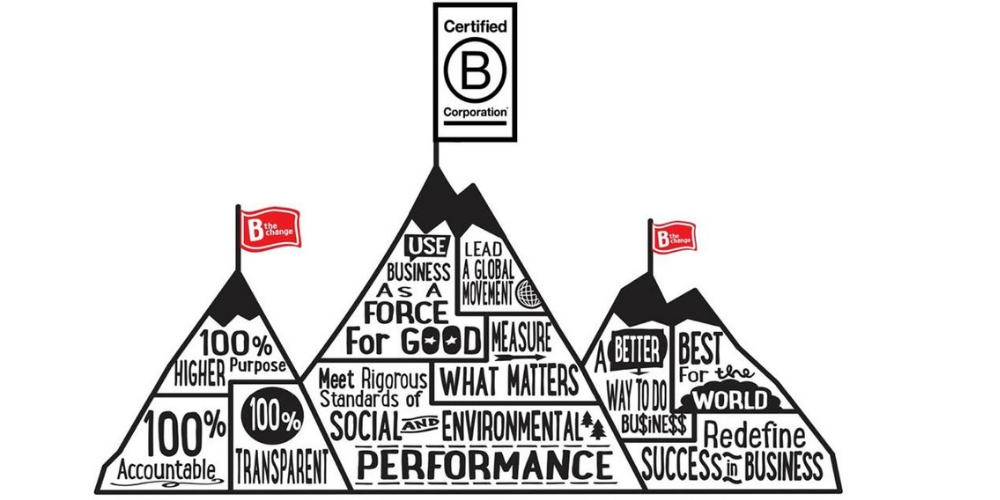 After some serious thought into our motivations, we realized it wasn't really representative of our ideals nor the direction we wanted to go. We have never been in this for the money, nor have we ever seriously entertained the idea that social VR would be a profitable enterprise. Instead, we are driven by the fun, the magic and delight, the boundless human connectivity and positive social impact of multiuser, shared virtual reality.  To that end, we've dropped our shareholder-focused model and formally changed Tivoli to a Public Benefit Corporation, down to the very core of our articles of incorporation, which now read:
..for the specific public benefit of creating positive social impact by leveraging VR technologies. This shall include (i) promoting open-source VR as a public resource (ii) enriching the lives of individuals through an open metaverse, (iii) advocating for privacy, security, well-being and socially positive conduct in VR.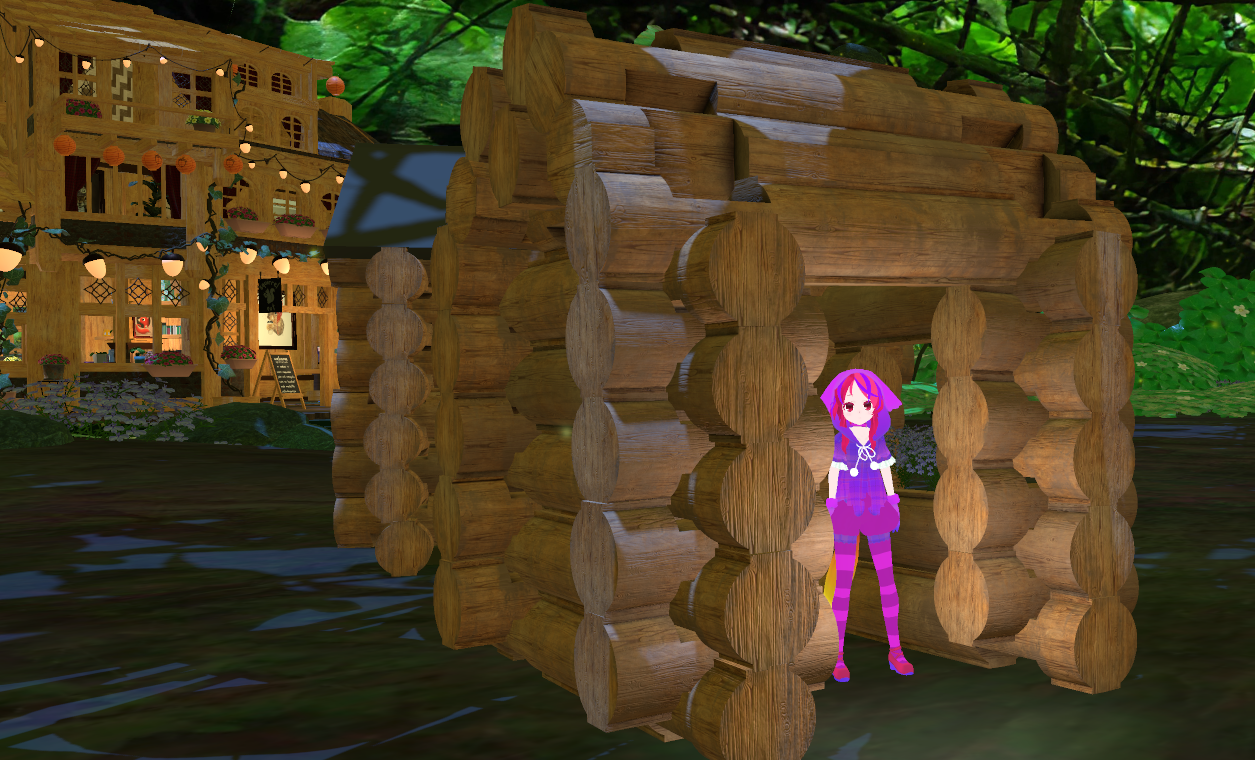 Changing to a B-Corp means putting people and purpose over profits (quadruple P, right there!), with annual public benefit reporting, financial transparency, and broadening the scope of our actions and services to address our newly refocused mission. In addition to our continuing our own open-source platform, we'll be offering free services to other open-source forks of the HFVRP. Formalizing and incorporating our true motivations into the legal fabric of our entity provide a wonderful sense of relief that Tivoli Cloud VR will remain focused on what is truly meaningful to us. In addition to the transition to a legal Public Benefit Corporation, we will be working with the non-profit B-Organization, to become fully certified and compliant with all the accountability that comes with running a B-corp.
Our success will not be measured in dollars or the price of shareholders' stocks, but instead the positive and meaningful social change we create.
Fun Stuff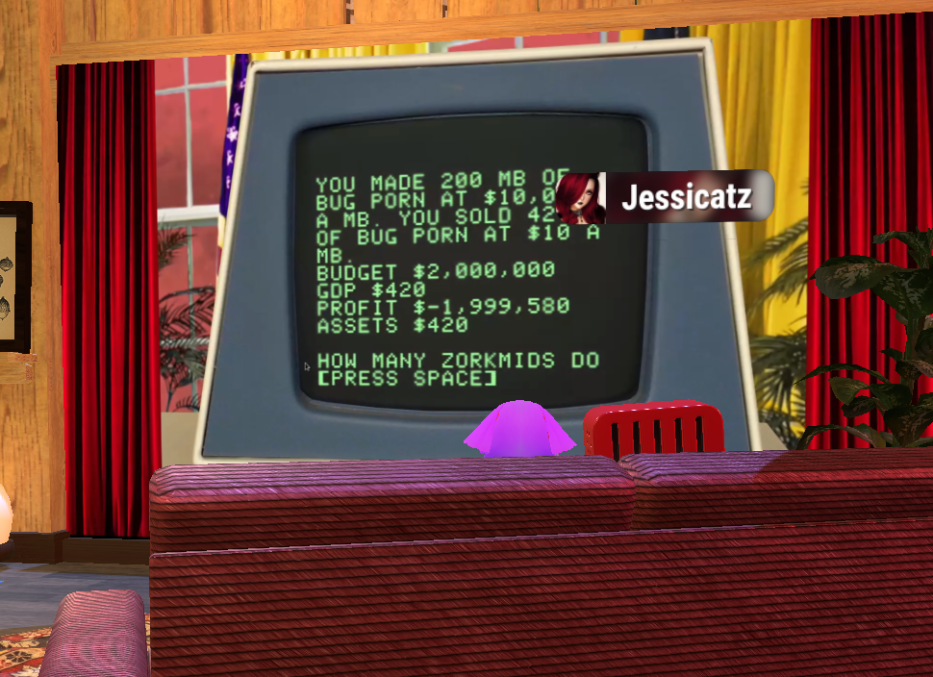 Some fun new content has been added recently! If you check out the Squirrel Nut Cafe (the default landing world in Tivoli), you'll find fun new stackable loggos, the classic toy for building log cabins and other wooden structures. It's surprisingly fun when combined with hand controllers and the physics engine, and even more fun when you collaborate!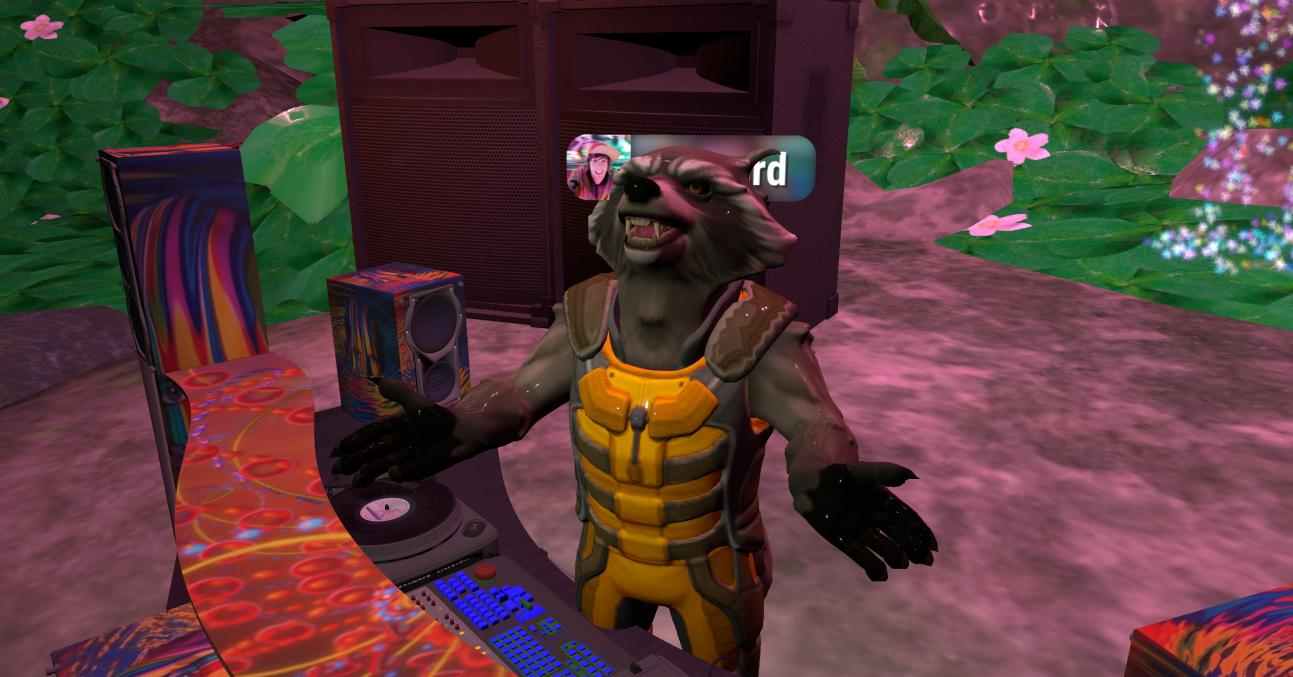 We're also continuing to hold our Tivoli Tea Time community meetings at 2 PM PT, feel free to come and meet other builders, artists, devs and generally over all fascinating and cool people.
The phenomenal German DJ, Meward, had his first party at the Squirrel Nut garden a few weeks ago after the Tea Time, and will be spinning again this Saturday, August 15th at 3 PM PT. The last party was incredibly fun and vibrant and ran into the late night! Do come next Saturday!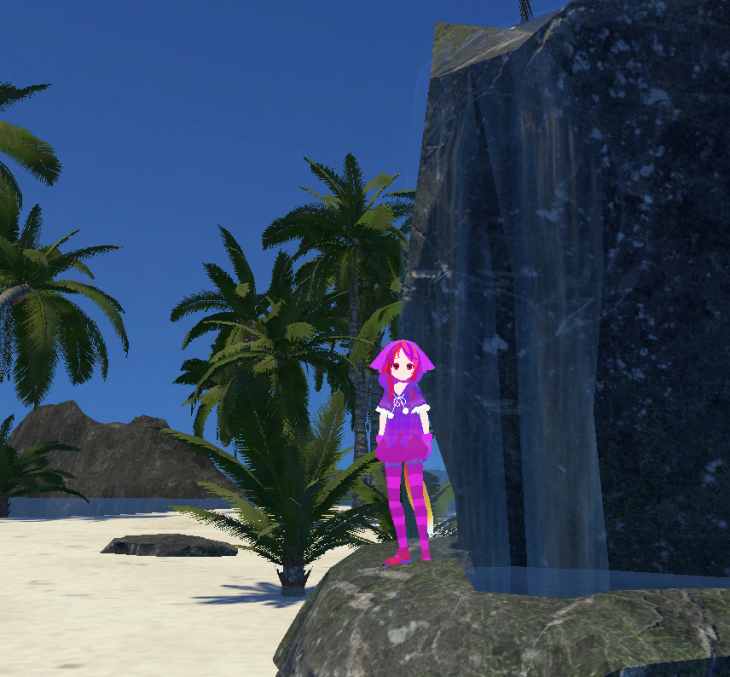 Also, the Squirrel Nut Cafe assets are now rolled into the installer, meaning your first landing experience in-world won't take much time at all to load.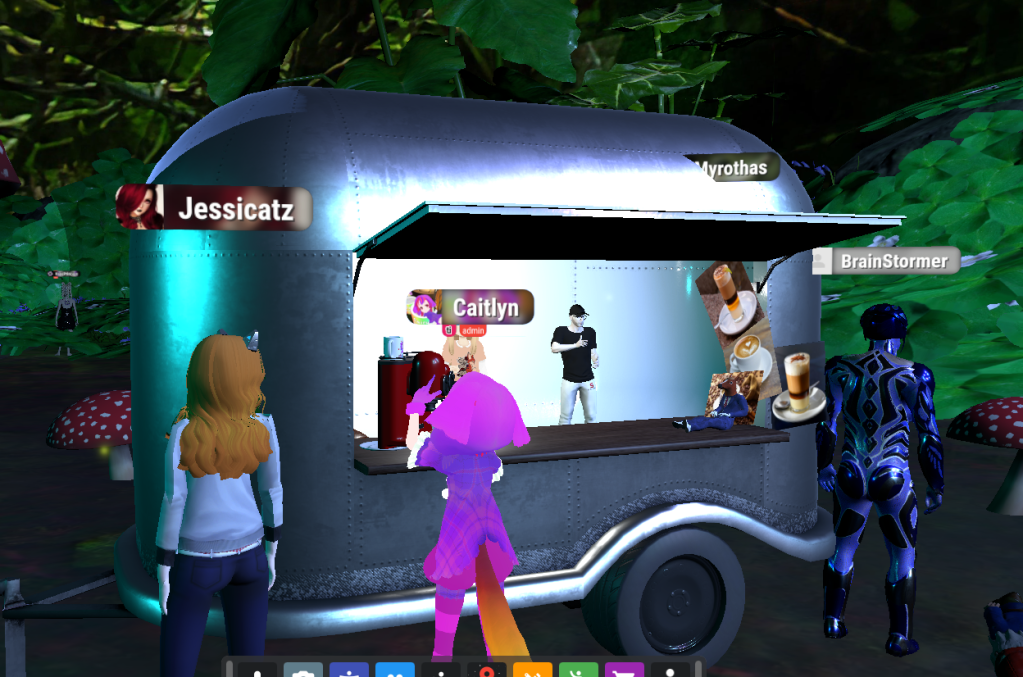 Technical developments
We've been super busy adding great new functionality to the Tivoli Cloud VR platform, and if you check out our Gitlab repo activity, you'll see a lot of really cool new commits.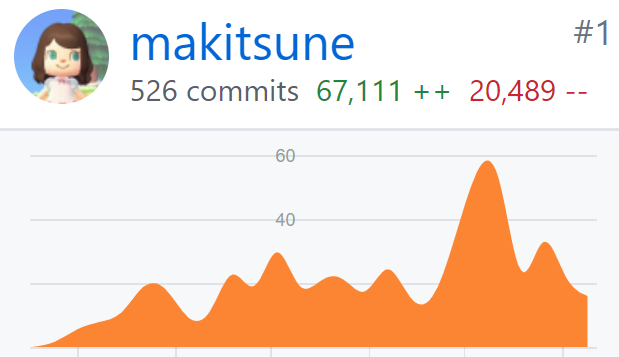 Coming features include full support for transparency in Chromium web entities, which means you can design dynamic, floating user interfaces with which you can interact in VR, only rendering the UI elements, rather than an entire window. Because we have full Chromium support, you can use the same suite of tools to design your interfaces as you would for the web, including animated CSS, html, Hype, etc etc. This should lead to a whole new generation of beautiful, dynamic user interfaces.
We've fixed a couple of crashes and sanded down some rough edges, enhanced our launcher's context menu with a direct shortcut to Interface, refined our suite of Blender tools for avatar and world building, added text to speech to our text chat, and much more! We're also fighting a couple of bugs, especially one affecting our users with older Mac (thank you for your patience while we get this fixed)!
Help support Tivoli Cloud VR!
Since transitioning to a benefit corporation, we'll be looking to fund raise through community donations channels, rather than knocking on investors' doors.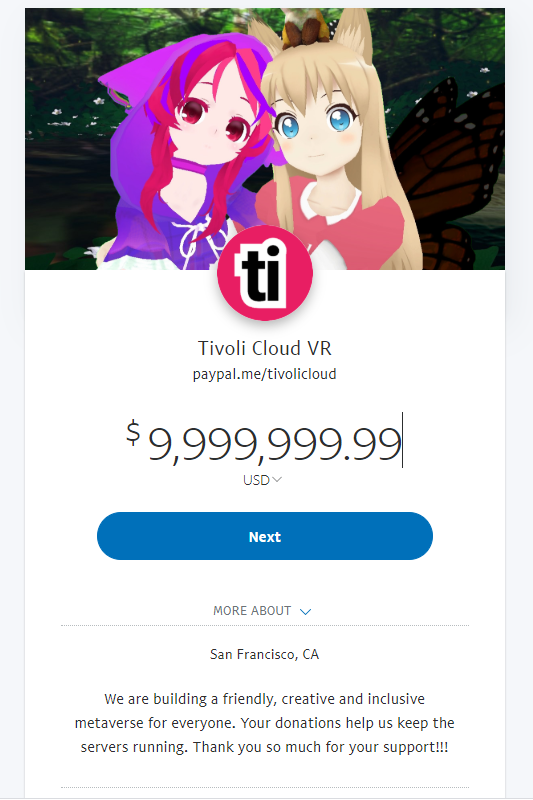 We'll be adding a means to donate through Patreon and Open Collective, but in the meantime, if you'd like to pitch in and help us keep Tivoli Cloud VR running, feel free to send a donation our way on Paypal!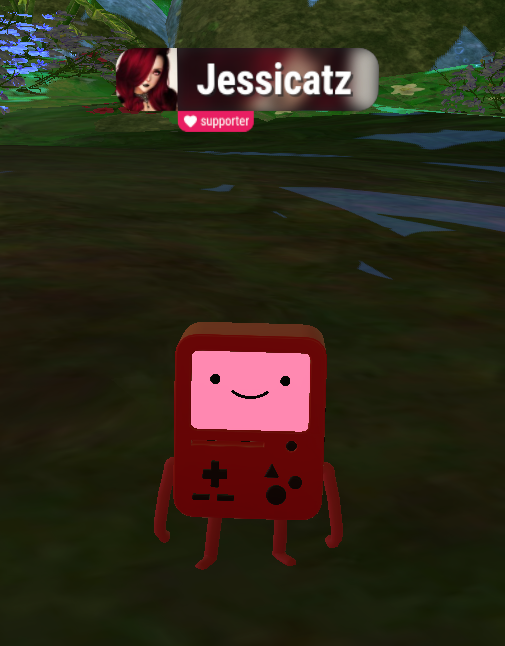 Thank you for taking the time to read our blog and follow our progress! If you haven't yet downloaded and explored Tivoli Cloud VR, hop on over to https://tivolicloud.com/download and visit us in-world! We'd love to see you.