Early Access Excess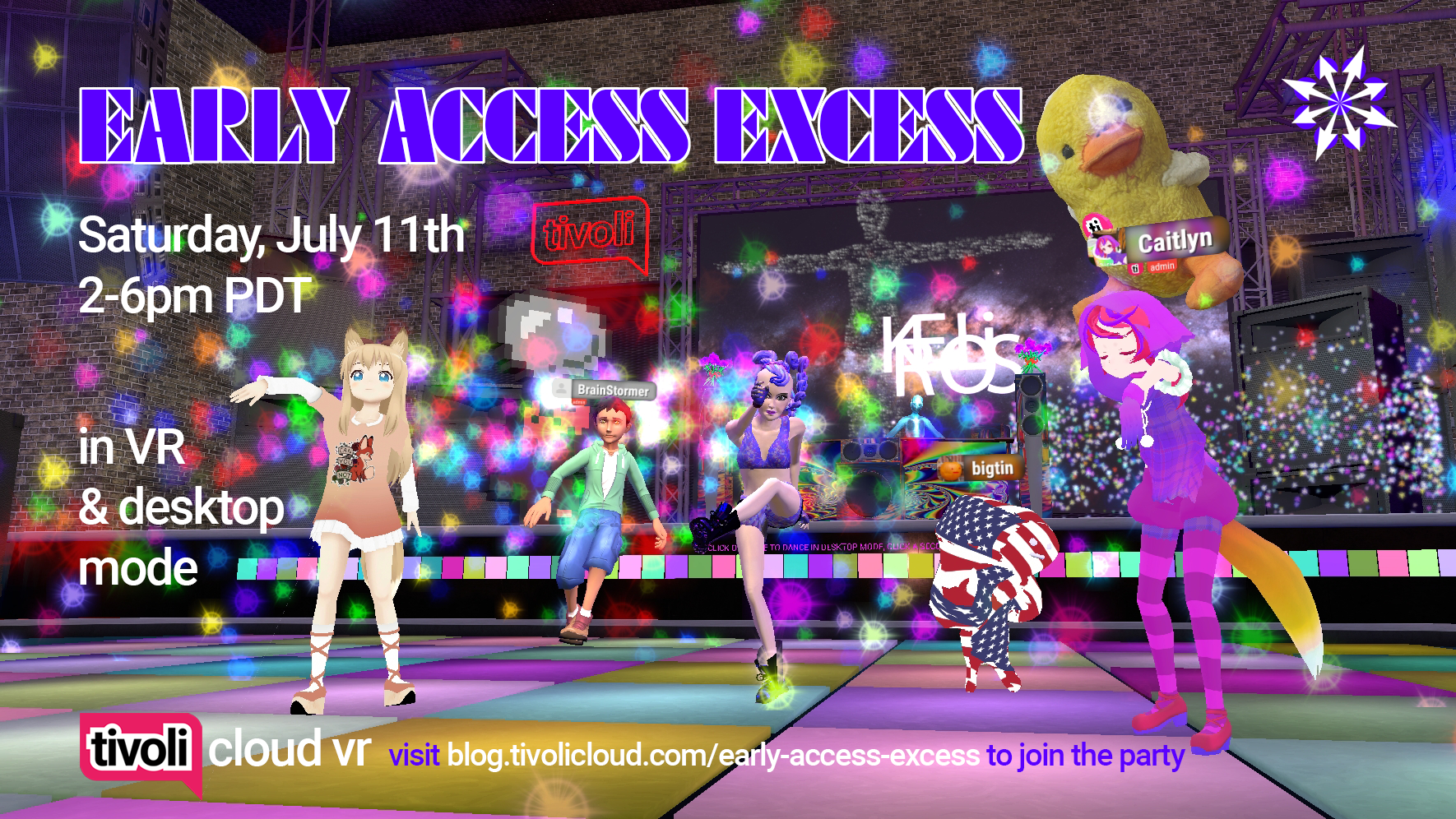 Join us to celebrate our Early Access Release with an epic party on Saturday, July 11th, 2-6pm Pacific Time!
We are overjoyed to welcome so many new and friendly faces on Tivoli Cloud VR, and we want to top our delight about our Early Access Release with a wild party.
In addition to having a wonderful time with like minded folks in social VR our party also offers the opportunity to experience Tivoli Cloud VR's unique gathering features - for one thing its ability to hosts crowds of up to 500 avatars in one non-instanced space, and for another thing its state of the art spatial audio whose optional attenuation zones we have designed to facilitate blasting sound on the dancefloor while still enabling more intimate conversations in the quieter areas around it.
With Kreolis on the decks and Brainstormer as master of light and particles we have everything set up for a fantastic time, still - like it is the case with virtual worlds as well - what makes a party truly shine are its guests.
Therefore we would like to cordially invite all of you to our Early Access Excess on Saturday, July 11th, 2-6pm Pacific Time.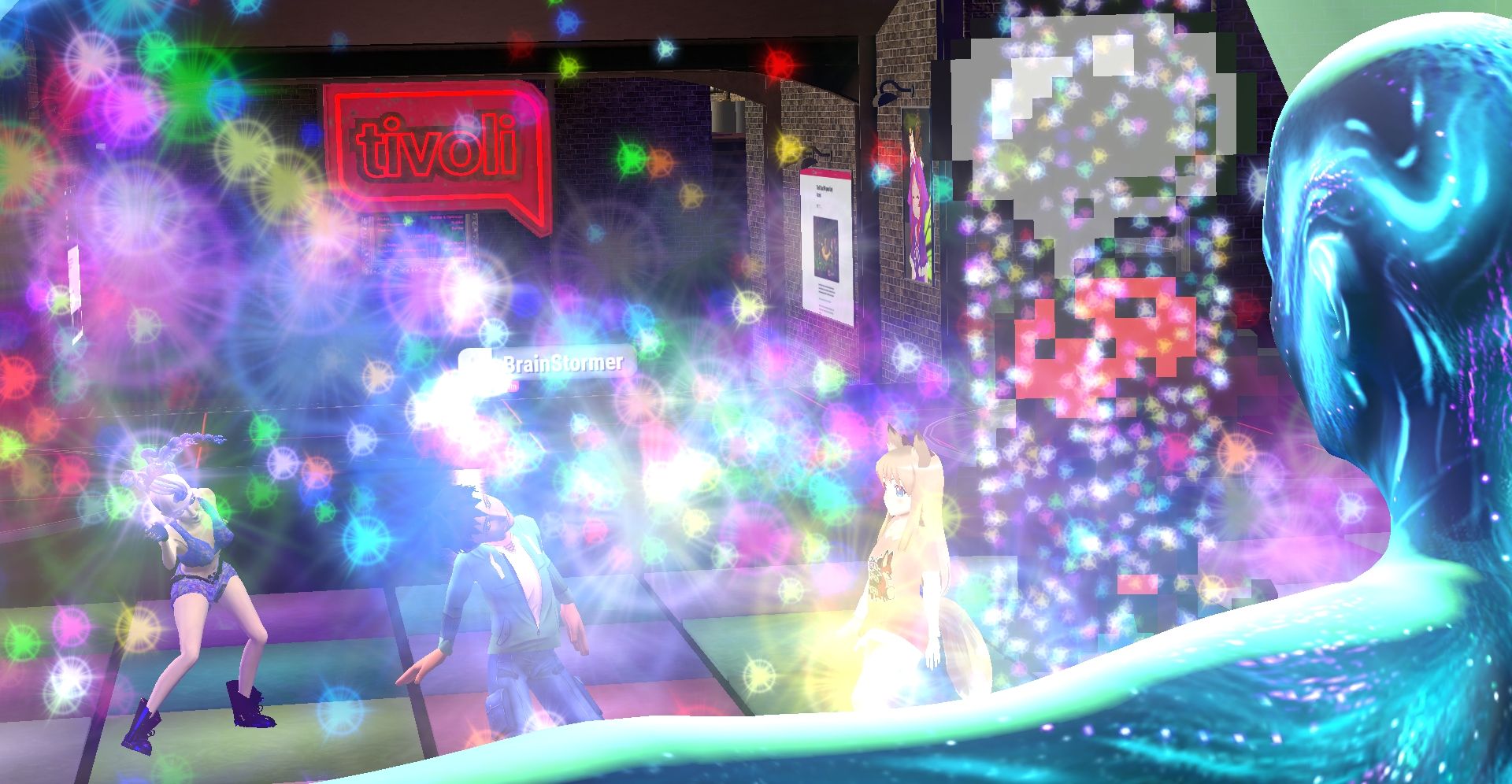 Onboarding Instructions
Visit our website: https://tivolicloud.com/.
Click on "Sign In" to create a Tivoli Cloud VR account.
Click on "Download" to get the installer for your OS.
Run the installer and click on "run anyway" if your OS's  defense system flags Tivoli.
With the launcher installed - open this address in your internet browser: https://tivoli.link/6y2z79AZUFn3bsHeOFe9Tu and click on "Launch Tivoli to world". This will take you directly to our party world where we cannot wait to rock the dancefloor with you!
Alternatively you can also run our launcher "Tivoli Cloud VR.exe" and click on "Launch Tivoli client". After arriving in our landing world open your tablet with the in-app menu button on your left controller resp. look at your toolbar in desktop mode and click on "Explore". In this navigation browser you will find our "Early Access Excess" world, and a last click on its icon will also take you to our club where we await you eagerly.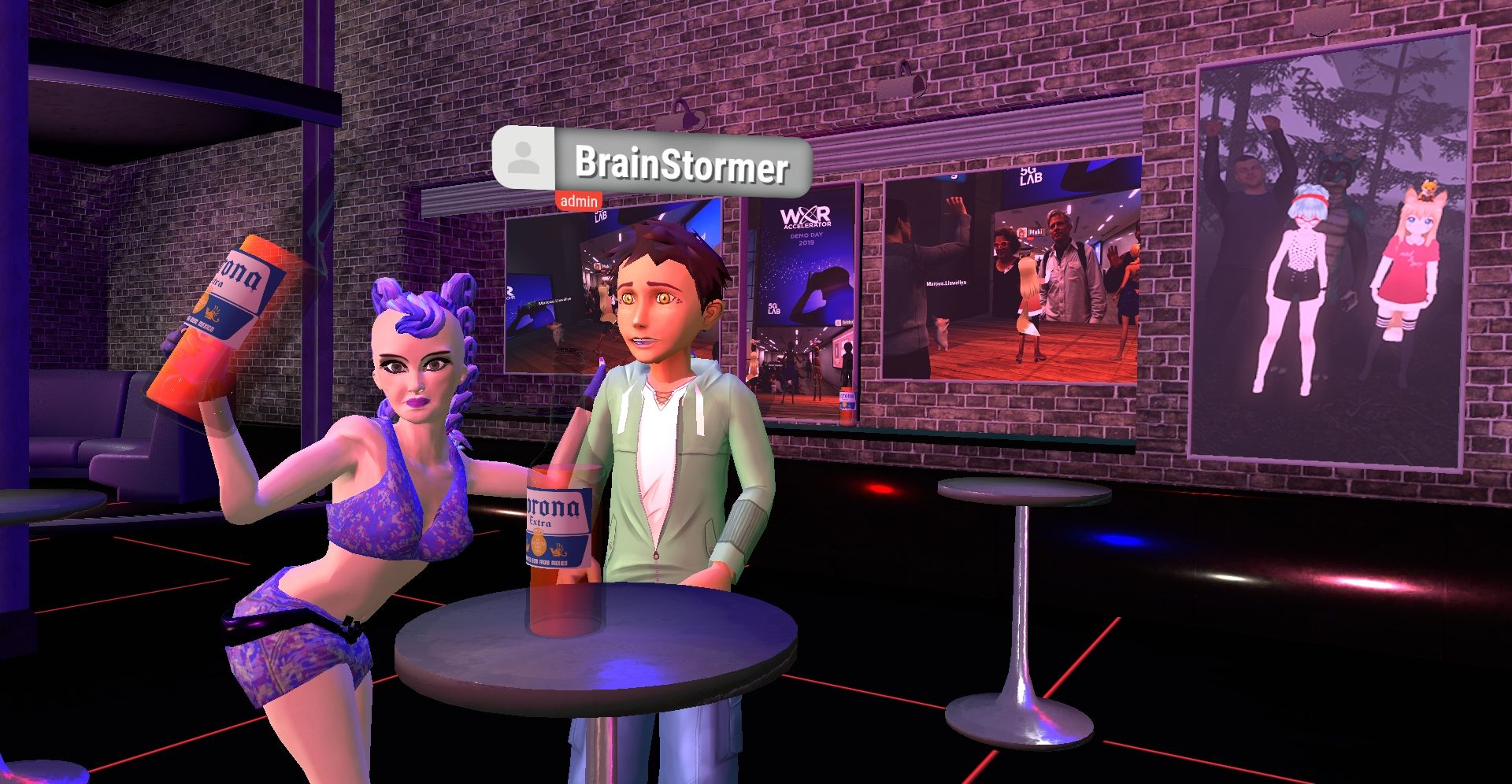 Operating Systems
Windows 10
macOS High Sierra (10.13) or higher
all major Linux distributions
Minimum System Requirements
CPU: Intel i5 equivalent or greater
RAM: 8GB+
GPU: NVIDIA GTX 970 equivalent or greater
Internet Connection: 20 Mbps download / 5 Mbps upload
VR: any headset compatible with SteamVR or Oculus on PC
Please note that Tivoli Cloud is an early access release and still has a number of bugs and other issues. Currently there is a hitch with MacOS and AMD graphics cards which we are pursuing to fix as soon as possible. Thank you in advance for your understanding!